Do you ever wonder why you have the friends you have? We all think we had no choice in who our parents are, but what if we actually chose them?
Do you wonder why you met a specific person? Why did they come into your life?
Have you ever thought about soul contracts? That the people that come into your life are there for a reason? At a non-physical level, you both agreed to assist or work with one another.
We have many soul contracts and  there are many who are co-creators with us as we walk our path. Gratefully, a BIG part of Cardology is a way for us to better understand all of those various relationships that are soul contracts.
First, a tiny bit about soul contracts:
Soul contracts are agreements you are making from the multidimensional aspect of you. This can include the non-physical as well as the physical. It is an agreement between your partner, your family, your friends, a pet, a job, a place that you live, etc. They are contracts you are making in order to share, change, grow, and appreciate the present through variety of experience. Life would be pretty boring if we were truly alone with nothing to prompt evolution!
The "mystical" or confusing soul contracts are usually "larger" and made from the non-physical, which is why they typically feel a little bit like a head-spin. So our advice to you is to use your heart!
I don't know about you, but sometimes a person will come into my life, cause what feels like unnecessary pain, and I am shouting, WHY!?!
Many times it is confusing as to why certain people behave as they do and we wonder why we are dealing with them at this point in our lives. We struggle with how we can help the situation. (Unless you enjoy relationship drama!)
One of the most popular topics I get with clients when doing readings is about their confusing or painful relationships.
Within the system of the cards is an in-depth formula for better understanding our relationships.
Because it is so in-depth, I can't  share all the ways the cards can clarify things in a single blog post, but I wanted to share a few basic ways you can see what might be going on between you and another person and why you are in what might seem like a frustrating or confusing relationship.
All you need to check in with this basic formula is two things:
Know the birthday of the other person
Use the Solar spread chart (You can see it below)
If you know anything about the cards, you probably know that we each have a birth card and a ruling card (much like we have an astrological sun sign and a rising sign). If you don't know anything about the ancient system within the deck of playing cards, learn more here.
You can use the birth chart here on my website to see what your birth card is if you don't already know.
You'll want to also see what the birth card is for the person you are wondering about. (You need to know what their birthday is.)
The Solar Spread chart  (also called the Earth Spread) is how the cards are naturally arranged. Below is an image of the Solar /Earth Spread.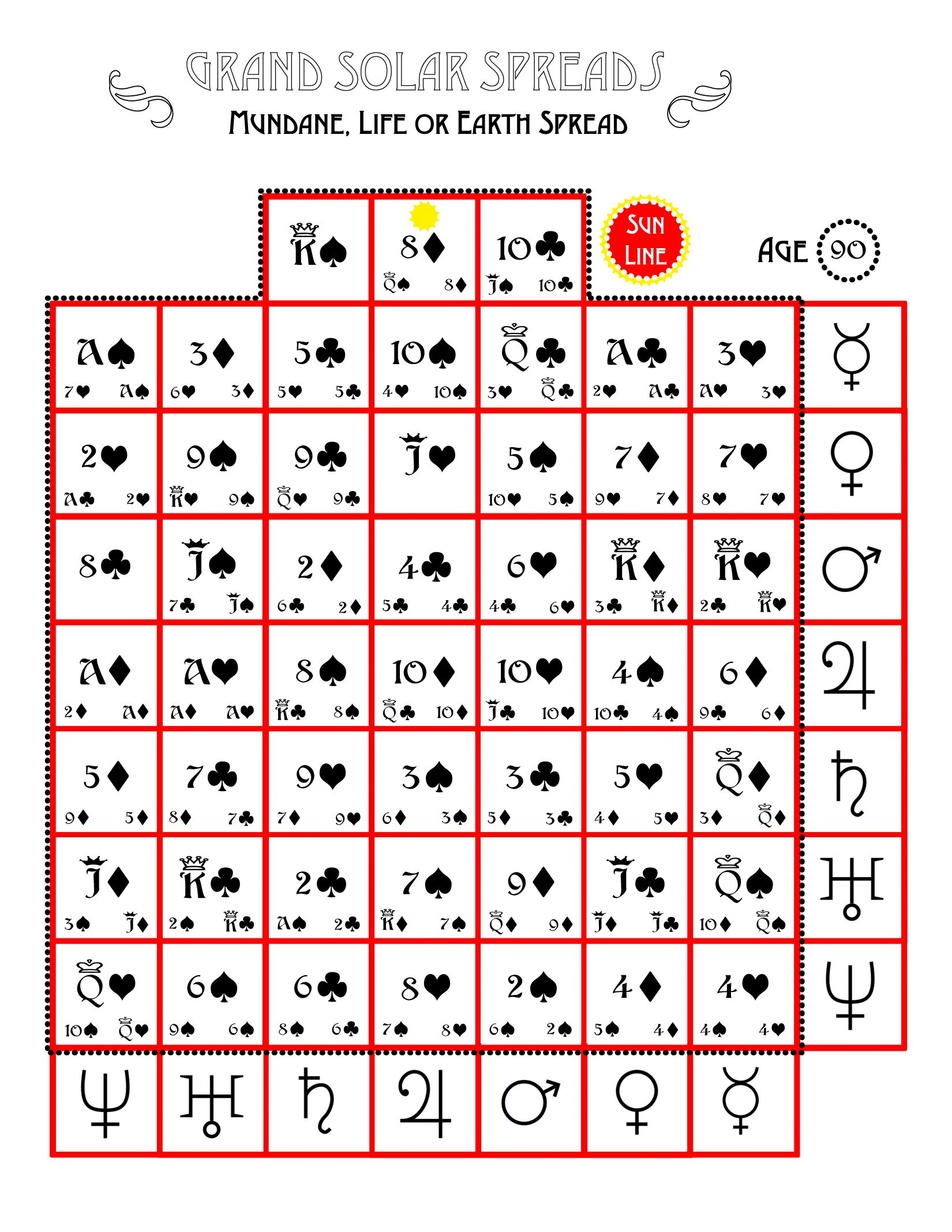 Find your birth card in the chart.
First, you want to see what cards are in your birth card spread – these are the cards that comprise the blueprint of you and define your birth card. There are more than 8 cards in this spread, but for the sake of keeping this simple, we will only use 8.
All you need to do is see what the 8 cards are following your birth card.
You do this by finding the card that sits to the left of your birth card and continue going left.
The first card to the left will be your Mercury card, then Venus, Mars, Jupiter, Saturn, Uranus, Neptune and finally Pluto.
The image below shows what my birth card spread is. I'm a 6♣. I wanted to use my card as an example so you can see what to do if the card you are looking at sits at the bottom of the chart.
The rule for finding your birth card spread is: always go to the left, then drop down to the next row, start on the right side and continue left.
The exception to this is when the card is found on the bottom row. In that case, you'll go up to the top, start on the right and count left. I've circled my birth card and used numbers to show what cards are in my Birth card spread.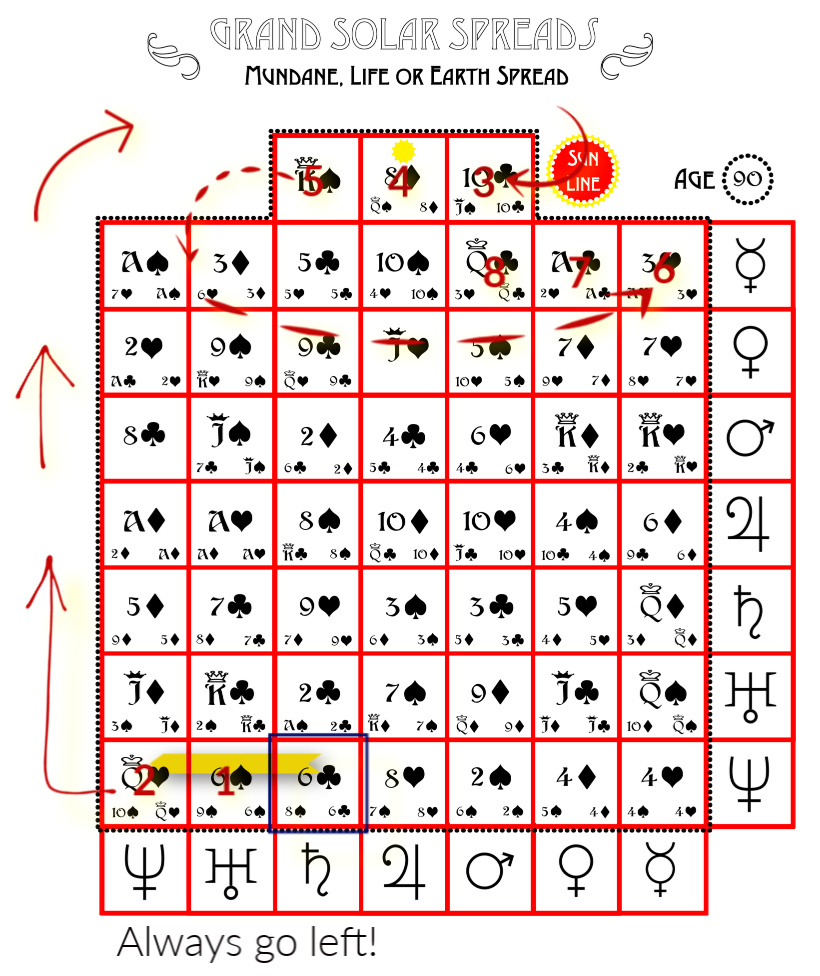 I'm only using 8 planets, which goes to Pluto.
Card #1 is Mercury
Card #2 is Venus
Card #3 Is Mars
Card #4 is Jupiter
Card #5 is Saturn
Card #6 is Uranus
Card #7 is Neptune
Card #8 is Pluto
Those cards are my Mercury through Pluto cards.
Next, do this same thing with the birth card of the other person – find their birth card spread.
Now, you're ready to look at three ways to see what energetic relationships are going on between your card and their card.
1. The first method for seeing what your relationship might be about is to see if the other person "is" one of your birth spread cards.
What do I mean by this? A close friend of mine is a K♠. You can see that my Saturn card is the K♠. This shows me that she will represent my Saturn card. Energetically, she will be very "Saturn" to me and be someone who will be showing me what my Saturn card is about. Remember that the cards represent the people in our lives as well as an energetic pattern. How can we realize what an "energy" is for us, unless we experience it in the physical? The best way for us to do this is by experiencing it through the people we relate to day in and out!
One of the very helpful things about realizing this is that while I will experience her in this way, others in her life won't. If we have mutual friends, we won't all experience her this way – they will experience her in whatever energy their relationship is. This is so helpful to know when any drama erupts between a circle of friends!
You will be looking to see if the person you are inquiring about is one of the cards in your spread, or you are one of the cards in their spread.
Now, in the above example between my friend and I – it is only that she is my Saturn – I'm not Saturn to her.  My 6♣ birth card is not in her Birth card spread.
This means she'll be a certain energy for ME – but she won't feel that energy FROM me.
This is the first basic thing to look for when you're checking on another person and what might be going on between you two.
2. The second thing to look for is called the Vertical connection.
I'll use my daughter as an example. Her birth card is the 9♥.
As you can see from the chart to the right, her Birth card spread is not the same as mine at all – but we do have a connection.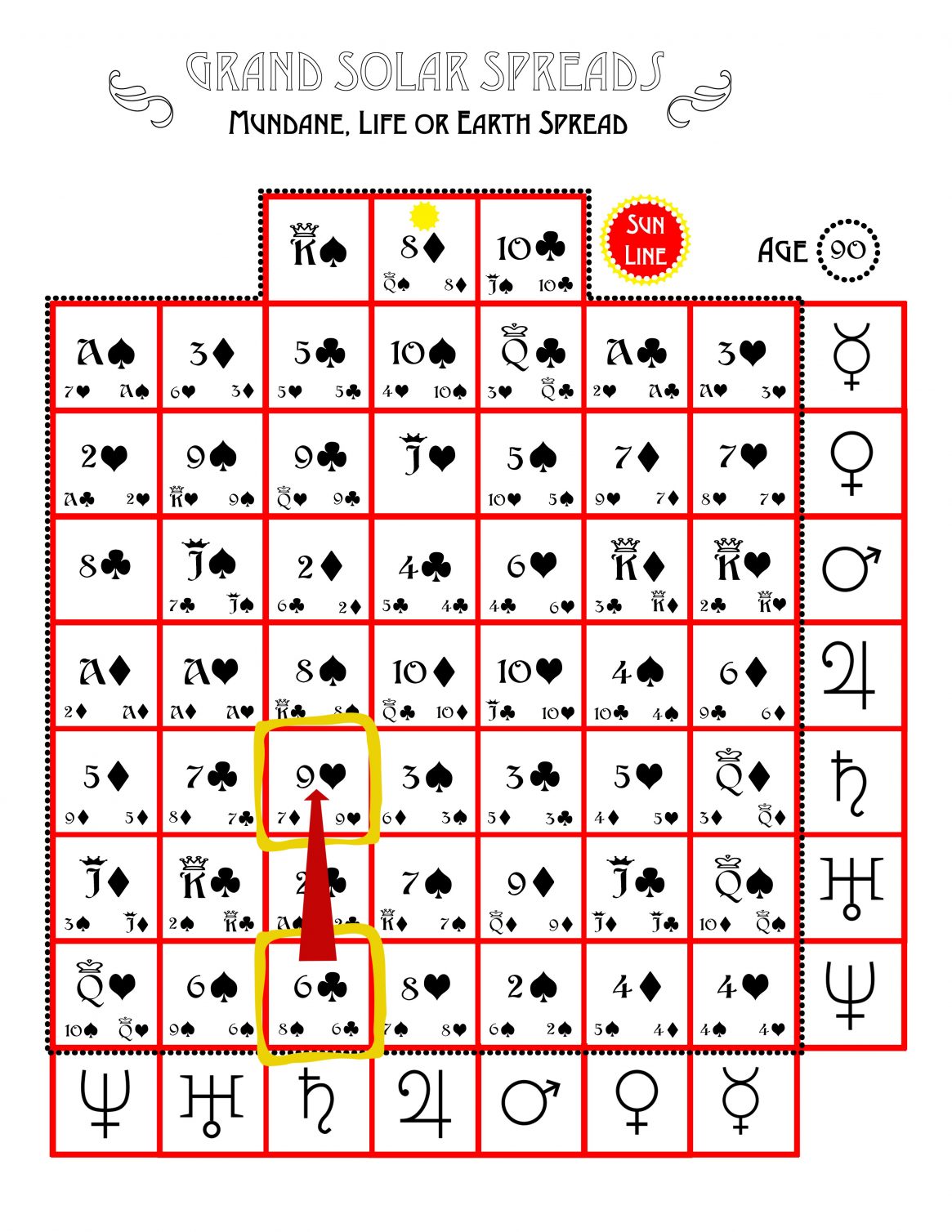 Her card is directly above mine or "vertical" to me.
Since her card is 2 spaces away from mine, that makes her Venus to me. (remember that Mercury is 1, Venus is 2 – so 2 spaces is Venus)
But, it is not the same for her.
Since we only go up when we look at vertical connections, we see from her point of view, if she goes up to the top (K♠), she would then go to the next column to the left, and back down to the bottom (6♠). So, while we have other connections because of our Ruling cards, she doesn't have anythng 'vertical' to me.
This means, to me, her energy is Venus. I will experience Venus with her.
**Below I explain the energy of each planet and what they mean in a relationship.
3. The third thing to look at is if your card and their card has a diagonal connection.
I'll use my housemate as an example. Her birth card is the 3♣. Looking at the image below, you can see that she sits diagonally from me 2 spaces.
Because it is diagonal, it is mutual. Meaning, I am also Venus to her. So, there is a Venus energy that flows between us. Unlike my other example, we will both experience the Venus energy.  (I've been using examples that are all two spaces away…remember, it can be 1 space away , which is Mercury, or 3, which is Mars, or 4 which is Jupiter, etc.)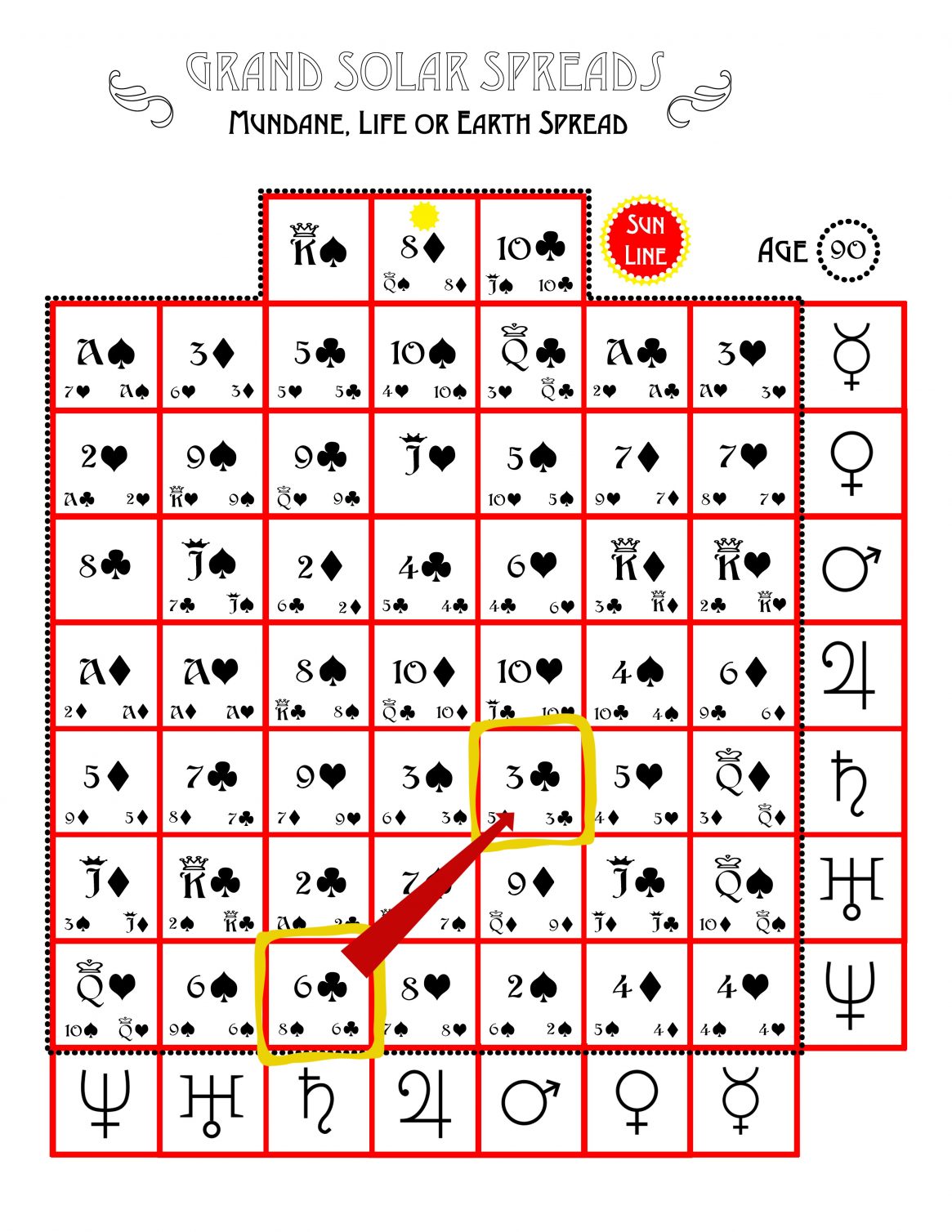 Once you see what type of relationship your two cards have, you can use the reference below to get a better idea of the type of energy there will be between you and the other person.
Remember that unless the connection is diagonal, the point of view will be different and that alone can affect a relationship!
Note: Many family members or close friends will have a Venus connection – that easy, loving connection. However, that connection can suddenly go very wrong (or have major issues!) Why? I talk about that here because it is another big topic within relationship connections.
*Here is what each planet represents as an energy in a relationship:
If the other person is Mercury to you – You will find that you both think and talk in a similar way. You communicate easily and share similar ideas and points of view, or you stimulate one another intellectually and converse well.
If the other person is Venus to you – You will love, appreciate and enjoy them. You won't feel the need to change them, you feel no issues, it is a very loving, easy relationship!
If the other person is Mars to you – they will motivate you, give you strength to move forward, or make you angry. If this is a romantic relationship, there will be a lot of passion and heat between you two.
If the other person is Jupiter to you – they will be a blessing to you – giving things to you without being asked!  They will support and encourage you. You are very compatible.
If the other person is Saturn to you – They will act as a teacher for you and you might not always like it!  They might feel like a burden or make you feel less than because they might always be telling you what you "should or shouldn't" be doing. But, they can be a great opportunity for you to grow and improve yourself by not taking their criticism personally and instead use it constructively.
If the other person is Uranus to you – They will do unexpected things that take you by surprise, and you might feel uncertain with them or their actions and you can't control them. But there is a deep friendship when you allow them to be who they are and not place any expectations on them.
If the other person is Neptune to you – you will probably see them through rose-colored glasses and there will be a sense of disillusionment with them. This can be a difficult relationship if you only see them as you think they should be, or it can be very enlightening if you take a step up with this relationship and allow the spiritual essence of it to allow you both to grow. There will be a strong psychic bond between you two.
If the other person is Pluto to you – They will be challenging to you and they can help transform you. They can be a reminder of what you want to become, or they can feel like someone who is shining the light on your shortcomings, or wanting to control you. They will do things that brings Pluto energy into your life so you can transform something you need to transform.
There is a low and high/positive and negative to every planetary energy.
A Venus or Jupiter relationship might be someone who has a soul contract to help you, assist you or be the one who delivers the blessings of the Universe to you. If we constantly refuse their gifts to us, we are blocking our blessings and the love that Source is showing us.
A Mars, Saturn or Pluto relationship can feel challenging or hard, and we might think it best to be rid of them, when in fact, if we are aware of what is going on, we can step up and improve our life from what they offer us. (I want to add here that abuse or any dysfunctional relationship that is hurting you is not one to stay in – when I say "challenging", I'm not referring to abuse.)
Every relationship is an opportunity for us to evolve and experience what we came to experience in this life.
If you feel confused by someone, ask yourself these questions:
Why did I choose to have this relationship?
What would I change about this relationship?
What is awakening within me because of this person?
What about them is just like me?
What about them is something I wish was me?
How do my answers reflect the energy of the planet(s) represented in the relationship between our cards?
What I've shared in this post is but a tiny part of what the cards can reveal about our relationships, but even one small "aha" can make all the difference in your life when navigating relationships!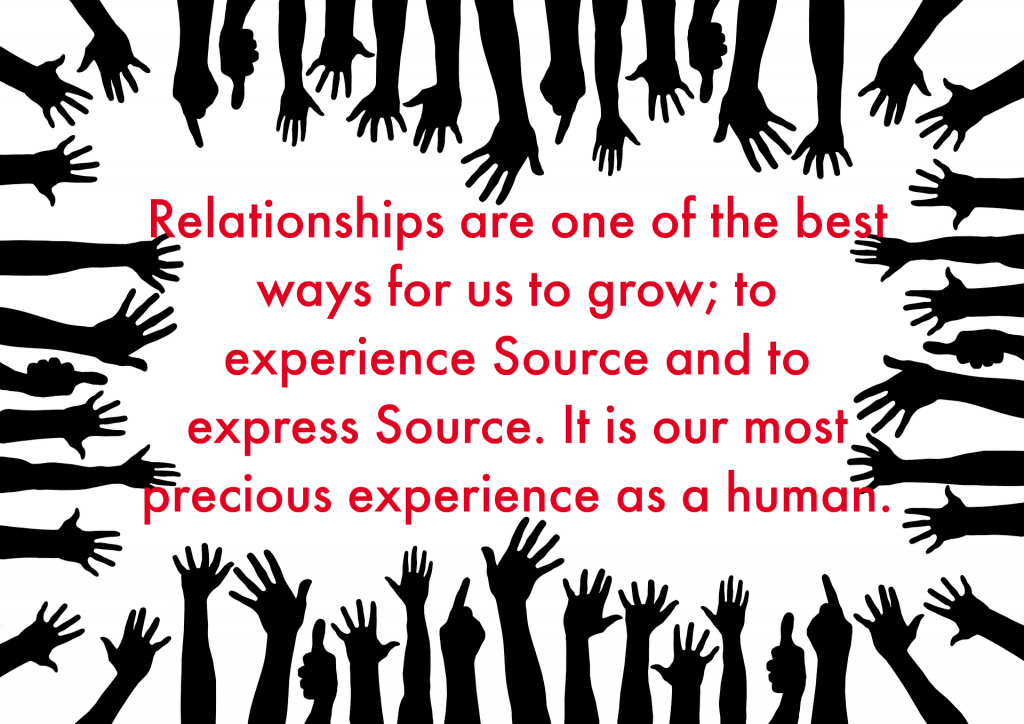 If you would like to really get to the heart of what is going on between you and someone else in your life, you can always book a session.
Soul contracts are essential to our experience on earth as a human being. Whether easy, fun, hard or challenging, the people in our lives are there for a reason. 🙂