At this time of the year, many of us set aside time to honor our transitioned ancestors in a variety of ways and Cardology can be a beautiful tool to assist it!
Ancestors who were alive in our younger years who have since transitioned are still part of the energetic influence we have at play in our lives now.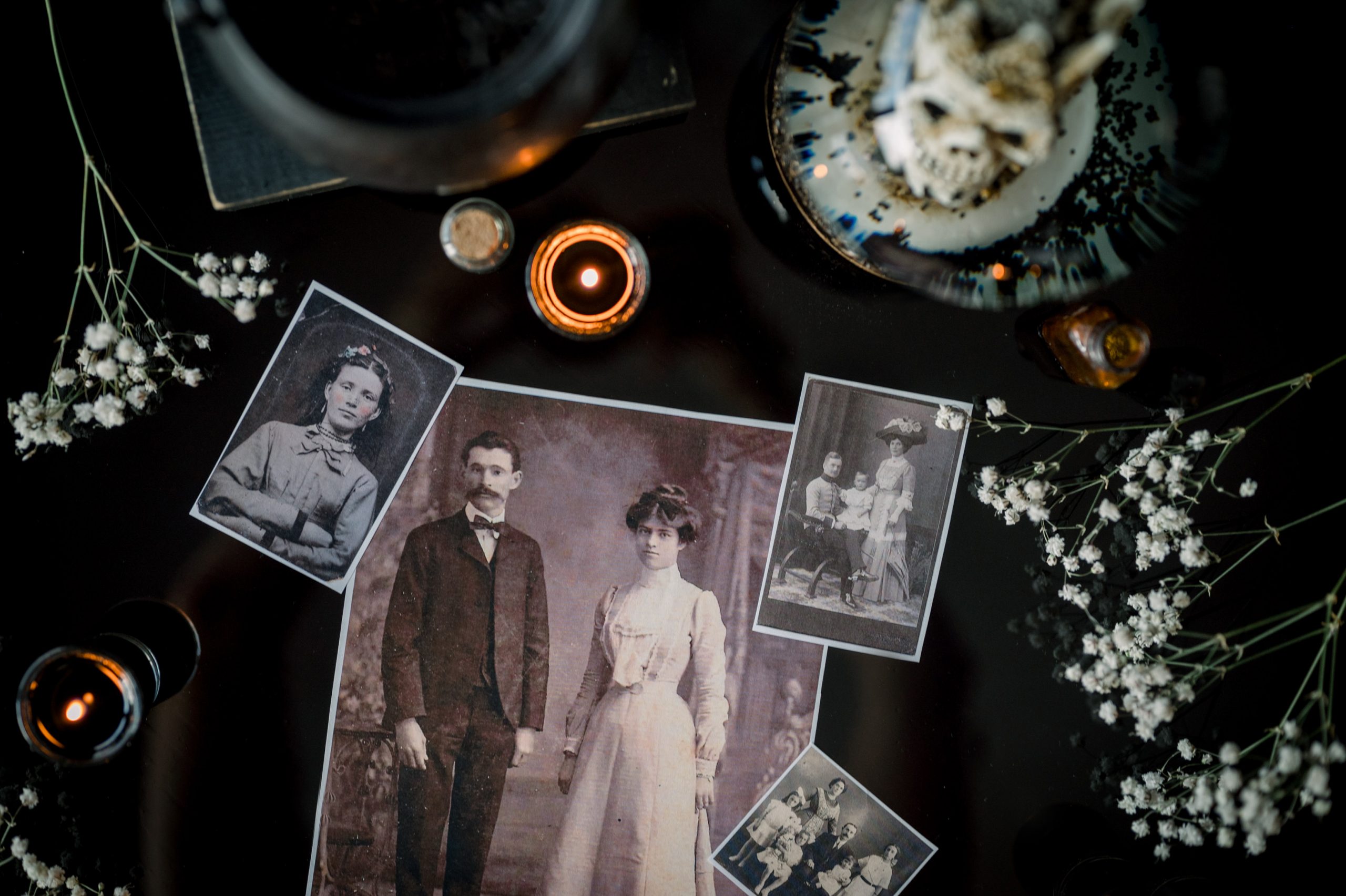 I believe they are part of our SPS (Spiritual Path Spread – I'll be using SPS in this post to refer to the Spiritual Path spread) energy now – because we can't view the SPS as just a past/linear concept.
Here is my approach to this time and rituals of honoring my ancestors:
You will probably notice many of your relatives in your Life Path spread. (Or you are in theirs.)
My Grandfather and a cousin are my Pluto card.
But something else you can look at – especially at this time of the year when honoring ancestors — is anyone who has transitioned might now be in your SPS.
(Did you know you have a Spiritual path spread just like you have a Life Path spread?)
If we step away from viewing the SPS in a linear, past sense, anyone's Birth card that is in your SPS is an energy influencing you in your life now and that can include those who have passed (whether they passed hundreds of years ago, or sometime during your current life.)
My Grandfather, no longer on this plane, is a 9♣, and while here on this plane, was not a part of my Life Path spread. However, in my SPS, the 9♣ is my Mars card.
Use the Spiritual Path spread chart here in this image to see what cards are in yours. Find your Birth card, then move to the left of it to find your SPS Mercury, Venus, Mars, Saturn, Uranus…etc.)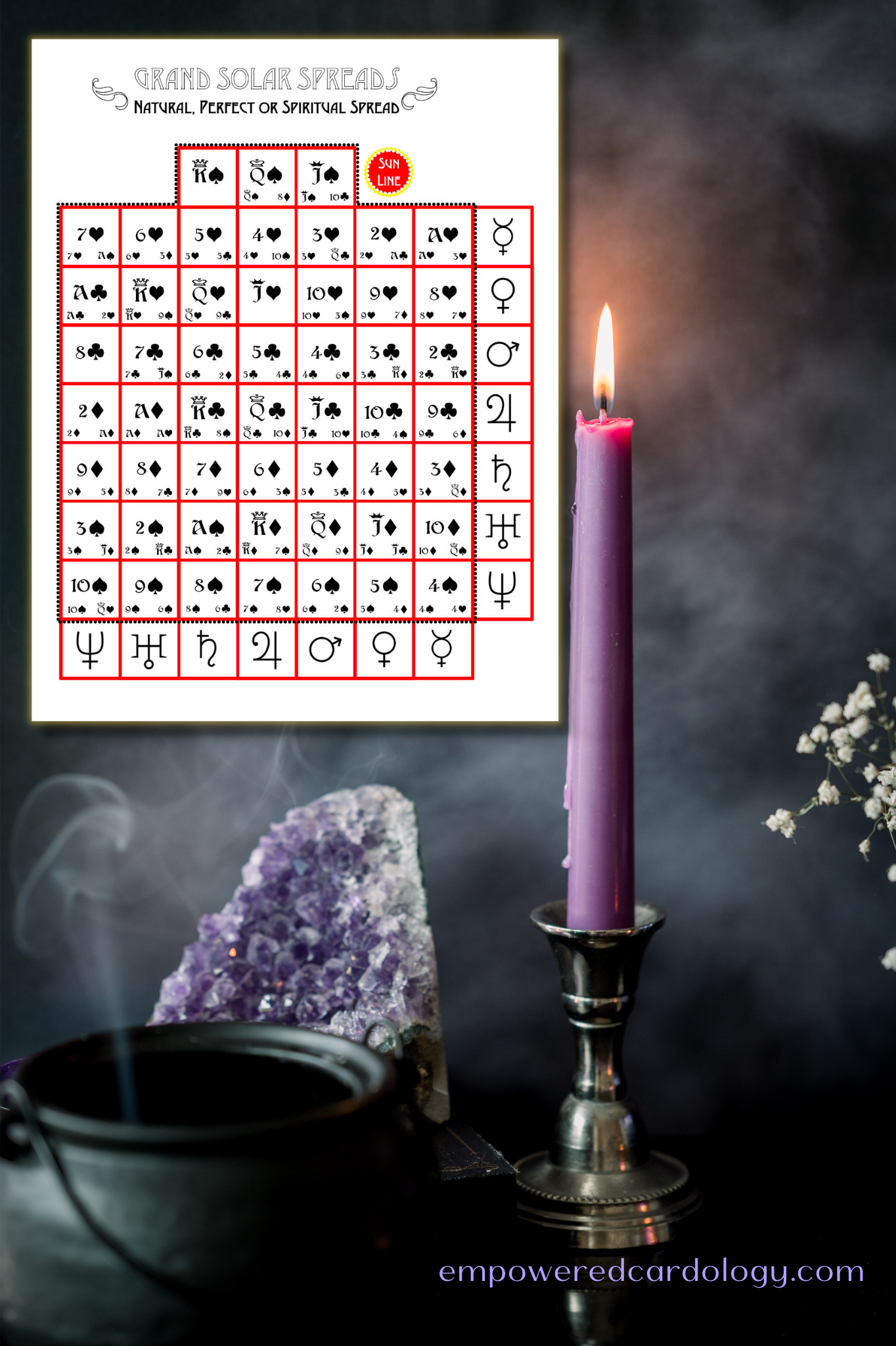 At this time of the year when I honor deceased ancestors, I take note of those whose Birth cards are in my SPS.
They are now an energetic influence in my life, maybe in a way that is very different than what they were when alive on this plane.
When I honor my Grandfather, I also honor my 9♣ in Mars. I look at the high side of that card and give thanks for its presence in my life, knowing that if I need it for anything (just like needing him for anything), it is there for me.
This recognition and honoring give this influence my energy.
Rituals produce energy. And gratitude is powerful. It sets up positive conditions for us.
For my 9♣ Grandfather, I honor him with the things of Mars – with fire, red stones and pictures of the greyhound dog as he was a Greyhound bus driver and the greyhound symbolizes loyalty and undying faith – another quality of the 9♣.
As well, I recognize anything I am grateful for or need from that 9♣ energy, such as taking action on being disciplined in my relationships and for higher knowledge and to look at my beliefs and determine if they are positive or negative and knowing when to let the negative ones go.
My two aunts and Grandmother were K♣. That is my Neptune card in my SPS.
I look at the high side of Neptune – which is to connect us to our Divine/Higher Self and the high side of the K♣ is to think at a higher level, enabling breaking outside my status quo so I can evolve, make progress and develop a better life. And to expand consciousness through leadership.
In honoring them and the high side of these cards, I feel I am also emphasizing the energy of them that WAS the high side and allowing it to heal family wounds.
If you do any ancestry work at this time, adding in the cards of your SPS that was the birth card of your relative can be a special and healing addition to your rituals, celebration or acknowledgment!