What is it like to change your frequency?
Over the past few weeks, I've been thinking a lot about what has happened to me and to Randi since March 27th – the day we decided to become biz partners and share the information she was receiving through her channeling.
I have experienced odd physical sensations and I think a lot about Ashley Maple – about transforming into Ashley Maple.
Who is Ashley Maple?
I wanted to share this story with you, as it is a big part of this week's forum topic: Manifesting in the NOW! (Already a member? Here is the forum topic. Not a forum member? Go here to become one!)
You can read the condensed version of why Create the Leap changed here, but I wanted to elaborate on a few details.
On March 27th, under a big oak tree covered in Spanish moss, in Airlie Gardens, Randi and I did a session for me. I needed answers and was very distraught.
I was guided to pick a word that would be the name to represent the "future" me. I immediately saw in my mind's eye a maple leaf floating in the air and picked "Maple."
I was then guided on seeing me in the future and that me would be represented by the name Ashley Maple. Where was she? What was she doing?
I saw her dancing with other women on green grass (like in a pretty park), then sitting in a circle and teaching. Then I saw her in an RV, traveling and meeting new people on a regular basis. She was happy, healthy and always dancing.
The session went on to explain that the future me already existed – but at a different frequency and in a different dimension. And that we have access to any dimension we wish to tap into and we can become any of the versions of ourselves we desire by changing our frequency to match that version. This is how we manifest something we want in our life.
Now, that can all sound very woo-woo sci-fi (especially of you aren't used to that manifesting lingo). But by seeing that version of me and giving her a name, I could tap into her. It also allowed me to see that I would be OK. Things weren't as devastating as I felt they were at the time.
As the weeks passed and we were being taught through Randi's channeled sessions, I kept Ashley Maple in my mind. I would see her in her RV, at gatherings, teaching with Randi and traveling.
I was researching RVs and going to look at all the various models and floor plans and at the nearby RV parks. I was picking the brain of a close friend of mine who was living full-time in an RV.
The more we did with the new work and the more I tapped into Ashley Maple, the more I saw changes within me. Not just with my attitude, but my dreams and my body.
I was having stretches of days where I was dog tired and needed over 9 hours of sleep. I was craving certain foods and not wanting food I normally ate. I was envisioning life in my RV – cooking, eating, doing yoga, walking my dog in the RV park, talking to other RVers and maneuvering my big truck/fifth wheel RV down the road.
I was also questioning all that was happening. Who was I to share this work? Was this for real? How did I get so lucky to actually get to do something I've always wanted to do?
And of course the BIG question: HOW was I going to GET said truck and fifth wheel?
The more sessions we did, the more I grasped that it was simply about changing my frequency to that of "Ashley Maple."
She owned the RV and was doing what I want to do. She already existed. She was already doing her thing. I didn't have to figure out how to get the RV or how to go from where I was to where she was in a linear fashion, I just had to change my frequency/vibration and become her.
It has been a gradual change. Little things have happened that might not even look like a frequency change, but is part of the process.
It took my close friend over a year to get her life changed around to go from living in a nice suburban house to living in an RV full-time. You have to downsize, you have to only have things in your kitchen supplies that are necessary and won't break if they go bump while on the road. You might need a storage unit and you'll switch out seasonal clothes. No more knick-knacks and you don't need furniture.
I saw myself getting aggravated at not living near my favorite grocery store when I had to move last month but then I realized, as much as I love my routine and my fav shopping spots, when living in an RV, I'll need to be more flexible in that regard. What I was currently going through was changing my frequency – letting me learn to not be so attached to my fav grocery store.
At first, I wasn't even letting myself think about driving a big gas guzzling truck all the time. How can I feel that way about big trucks and still manifest one? I couldn't. It won't work.
So, one day I started noticing all the big trucks on the road – which ones were big enough to haul a fifth wheel? Which ones did I like? I started noticing the fifth wheels on the highways and what trucks were with them.
I still had a conflict regarding the truck though – I loved my car and didn't want to be driving a big truck all the time – I wanted to keep my car for when parked here at home.
I knew I had to find my alignment with that or it would block me, so I asked the Universe to help me out. One day as I was driving through downtown, it hit me- when I am parked here at home, I can rent out my truck through Turo and drive the car I have. That switched my feelings about having a big truck and it changed my vibration.
I realized that I needed "time" to take care of all the adjustments. If someone had given me a wad of cash right when I had this idea and I went and bought an RV right then and there, I'd probably be having all kinds of issues right now. I would not have been in alignment, or in the right frequency to be living that life yet.
So, while we are learning to live outside the constraints of time (like learning that it isn't about the money to reach your goals), we are still humans and we need to adjust things to match up with our desires.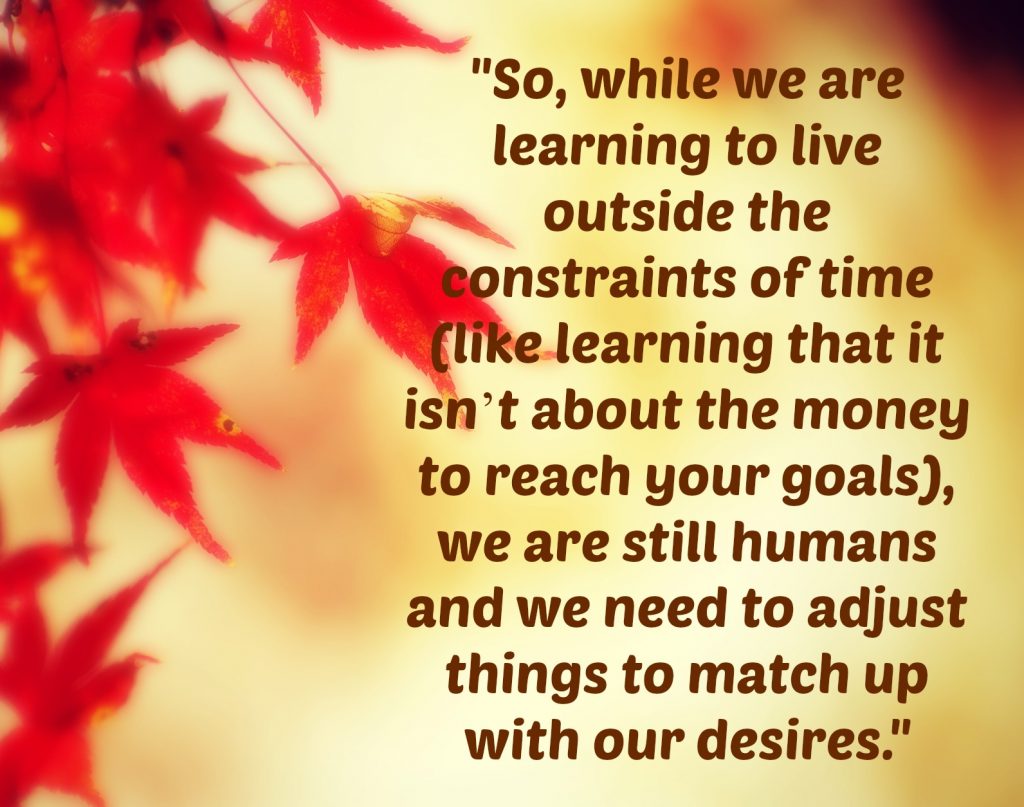 I've taught this for years, but this experience really brought it home for me in so many ways!
Yes, I could instantly switch my frequency to that of Ashley Maple. We are capable of doing that. We are capable of SO much more than we think! But, it is taking these little steps and adjustments to help me make the changes needed.
I wanted to look at this in a practical manner as well. Let's see how this works in the old typical way verses the Age of Omniscience way:
Old Way
I need 80k or more to buy the RV and the truck (how do I make that kind of money? And fast? Brain goes into the mode of trying to figure that out and probably gives up)
Do I finance it? If so, I need to raise my credit score and show consistent income (I'm self-employed and my income comes in chunks and not with pay-stubs – so I'd probably get denied.)
I need to work 3 jobs and try to put a ton of money away. (ugh)
Do I know anyone who would loan me the money? No…
Even writing these out, I feel heavy and like a loser…those feelings are very low vibrations and will get me NOWHERE!
New Way
I don't need to know HOW – Source has an infinite way of setting this up for me. (Wow, that feels nice!)
I keep envisioning myself in the RV and when I feel inclined to go look at models and parks, I go and I learn more about them. (That is fun!!)
I envision myself living in one and I see where I need to downsize and I go about doing that. (Feels good to make my life much simpler!)
When I come up against a sticking point, I ask the Universe to sort it out for me and I get an idea of how to do just that.
It isn't about the dollar amount. 80k for Source is no big deal. I just have to be vibrationally "ready." (I can do that. It's nice actually to have this time to adjust.)
Writing out this new way feels much easier, lighter and is a higher vibration!
It has been fun to refer to this me that I'm becoming with a name. I can talk about her and feel her and know she already exists. It empowers me – verses feeling like this is a goal I can't achieve.
Whenever I see a  maple leaf in designs or in nature, I see it as a wink and a nod from Source and it makes me feel supported.
I am simply becoming Ashley Maple. That lets me do this outside the constraints of "time" and the limitations it puts on me.
Bottom line – this feeeeeels waaaaaay better than the old way. I feel more like her each day and know that I AM HER!