Do you have a desire to get serious about your creative work? Want to take the first steps in going from a hobbyist to a professional creative?
This is the first post in a series on How to Get Started: The Inner Game and the Outer Strategies
I'd always loved writing and had notebooks full as a kid, but back in the early 90's, I wanted to get serious about it. It wouldn't leave me alone. I had story ideas and characters that were in my head talking to me all the time.
How does one get started?
This was pre-internet for me, so my start was slow and agonizing – the World Wide Web has made it so much easier!
In looking back, I can see where I got hung up and what took me so long that could've been avoided.
I'm sharing a series of posts that will help you get started if:
You want to stop just playing with your creativity and start taking it seriously.
You want to set up a routine and be consistent and see projects to the end (instead of living with piles of ideas).
You want to pursue the path of getting your work out there.
You yearn to be a professional creative and not just a hobbyist.
In everything I teach and do with my coaching clients, I always start with the inner game.
It will save you a LOT of time and headaches!
No matter what you want to start doing in your life, you have to have the inner stuff aligned in order for anything you do outwardly to be successful.
Each post will have an inner game changer and an outer strategy to get you set up and going.
Today's post will be Step #1:  Know the outcome you want.
When you think about getting serious about your work (whatever you do creatively), what is the end result you want?
Here is where you need to remove yourself from what everyone else is doing and take the time to imagine what YOU want.
If you're a visual artist, how do you imagine your work being seen and felt?
Is it in others' homes? In galleries? In local specialty shops and boutiques? In an online store? Is it custom work? Produced in quantity? Is it functional art? Décor? Inspirational?
You need to imagine and feel exactly what makes you giddy when you imagine the end results.
It is the same if you're a writer. Where do you see your work once it is done?
Is it on bookstore shelves? Kindle? Are you reading at bookstores? Reading at schools? Is your book all tattered and stuffed into purses because it is a faithful companion? Is it written in and pulled out to thumb through frequently? Is it being read by women? Men? Teenagers? Seniors? Does it help relax and allow escape? Teach important life lessons? Does it inspire or entertain?
 Get Specific.
Make notes as you think about the end results of your work. Keep an ongoing list of what comes to you.
TIP: There are NO rules. YOU decide. Don't think about what looks the most profitable, or the easiest. Don't let someone else tell you how it should be. This keeps you open to intuitive hits as well as using your creativity not only to create the work, but also for ways to share it!
When you can see and fully feel the outcome you want (and keep in mind, if this changes along the way – that is OK!), then your inner guidance and brain will get to work in helping this come about.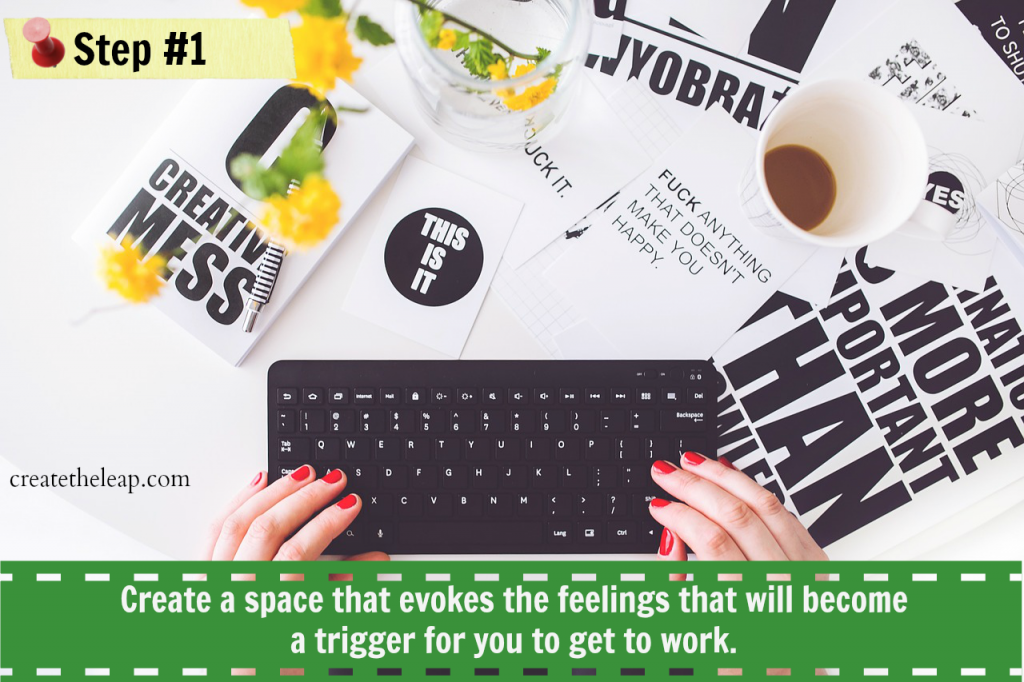 The outer strategy:
The next thing you want to do is to create a literal space that evokes the essence of your end result.
Depending on the type of work you do, you might need a desk or a table or just a chair to sit in as you work away on your laptop.
Regardless of what you need to use, you still want to evoke the right feelings that will become a trigger for you to get to work.
If you're a dog owner, you probably have/do something that your dog recognizes as "time to go out or play." You have a routine, a way that you go about getting ready to take your dog out that it is familiar with. You don't even have to say anything.
In the same way, you need to train your brain to take your work seriously and get down to business. You need to prime the pump of your creativity, so that when you sit down to work, you are productive.
You do this by setting something up that evokes your senses in some way and gets you ready.
You can do this no matter where you are – even if your writing time is your commute to work each morning!
When I was a Swim Coach, I drove 45 minutes each way to work. It was on that drive that I would work on my plotting. I had a small recorder to talk into if I needed to. Technology makes it easy today, as we can talk into our cell phones to take notes.
Because that became my habit, as soon as I got onto the highway, my brain kicked into gear and I got into my story and ideas would flow.
Create a mood for your work.
I wrote paranormal stories, so I wanted to create a mood that represented that for me.
When I wrote at home, I lit candles, or played specific music or had a collage of images I put together in front of me. It put me in the mood. I could go from thinking about or doing something non related to my story, to being in the zone for creating, simply because I surrounded myself with certain sounds, scents or images.
When I was painting, I'd play recorded tapes of Abraham-Hicks. I'd get into a zone and work intuitively.
Some writers wear certain clothes, or put on a hat or robe or certain shoes. Some play a specific soundtrack, set up a specific snack to nibble on, or look at specific images where they're writing.
Not only does this train your brain to get to work, but it sets the mood and gets you into that space for creating.
The most important thing to consider when setting up a space is to purposefully use that area, time or activity for your work. And to take it seriously. As long as you are still in that frame of mind of hobbyist, so are those around you, your brain, and the Universe.
YOU must take it seriously in order for others and all the unseen help available to you, to take it seriously.
Setting your "space" sets the energy and helps you get going.
TIP: Decide right now that you will no longer buy into the illusion of "there isn't any time for me to create."
YOU shape your time. We all have responsibilities, jobs, kids, pets, etc., that we have to deal with. The priorities get the time. When you get serious and decide to make the time, the time is there.
Please join us in the Create The Leap Facebook Community as we discuss getting started. (and have fun talking together!)