Order Additional Life Path Spread Charts!
Give them as gifts!
You can give this beautiful chart to others in your life so they can see what cards are in their Life Path spread. Whether they are new to Cardology or learning the system, having their own chart to view makes it easier to begin the journey of using Cardology to understand who they are.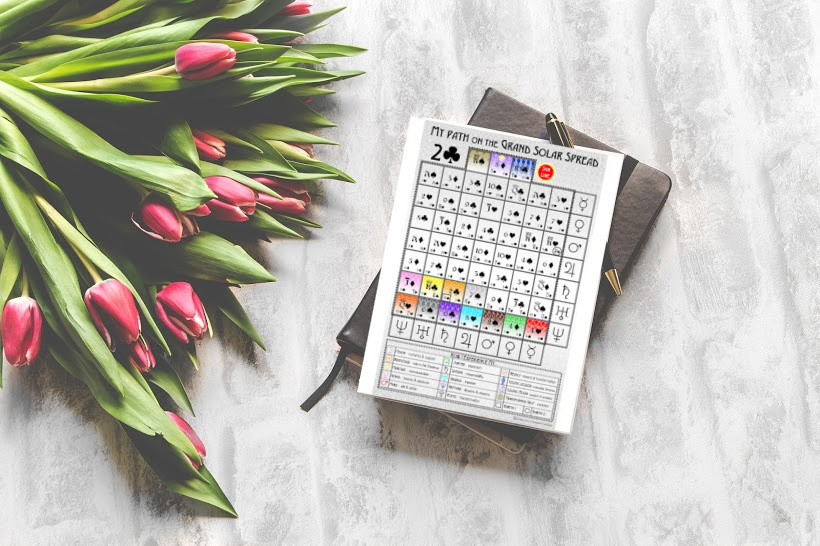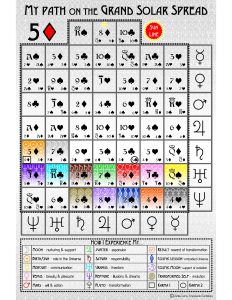 Just like an astrological natal chart is a picture of the sky when you were born...
The Life Path spread chart for a birth card is the visual of where that card sits on the Grand Solar Spread. It reveals how it operates and what gifts, talents, challenges and opportunities were chosen as a blueprint in this life.
Enjoy these amazing benefits
Just like with Astrology - we each have a Moon card, a Mercury card, a Venus card, etc. This chart shows you what planet each card is representing.
A keycode to let you know what each planet/card is about.
In Cardology, there are cards in your spread that go beyond the planets - this charts reveals those as well!
In learning about your spread, you will will also realize where others are and how where they are relates to you. Each card has a connection to the other cards!
Print it out, frame it, use it as a screensaver, the cover of your Cardology binder...and see YOU in new ways.
A relationship with this ancient system that can become your navigational tool for life.
When ordering, you can choose either an 8x11 jpg or a high resolution PNG (to print out a poster)
"When I first began exploring Cardology, I was confused about so many things. I was frustrated that this system of knowing seemed so out of reach and that those who knew how to read and interpret the cards seemed to speak another language. Ashley offers so many resources that explain the fundamentals of Cardology in simple, down-to-earth ways that others do not. I found myself returning to her explanations over and over again.
My FAVORITE resource continues to be the Life Path Spread Charts. Not only are they BEAUTIFUL, the charts present each card's life path artistically and in a manner that makes the meanings of each card in the spread tangible and easy to grasp. There is absolutely no other presentation of the life path spread like Ashley's available anywhere else… Trust me, I have been searching. I look forward to gifting these charts to all of the special people in my life."
Andrea Little Mason, Ed. D.