Create the Leap is committed to facilitating guidance and structure for this brave new paradigm, what we call the Age of Omniscience. It includes such "superhero" abilities as telepathy, self-healing, astral travel and living 100-700 years!
Sounds like science fiction right? The thing is, it's happening now. 
Duder! I'm Ready! Beam Me There!
12-Strand DNA Houses the Love Intrinsic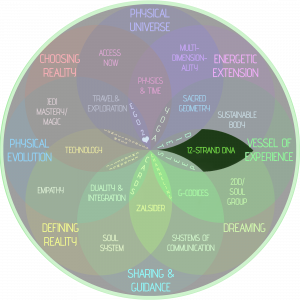 The Age of Omniscience is not something we're preparing for, we are living it. Part of experiencing it to the fullest is the 12-strand DNA activation that previously lay "dormant" in our energetic makeup–in the blueprint we were born with. It is the construct of form that allows for us to see ourselves as each other–to live and explore our omniscience.
The 2-strand DNA was the platform for separation, dualism, and limitation. Now, we don't have to walk over coals to be qualified for enlightenment, or chant a mantra 108 times a day (but if that's what you love to do–by all means!)…all that's required is to make a commitment to live the entirety of you.
That commitment has brought you to us. We facilitate an alignment to the Love Intrinsic, the god-stuff that we are comprised of as Source. There are many names for Source (God/Goddess, chi, prana, higher self, soul–again, we honor your name for it). Aligning with the Love Intrinsic to you means that you are agreeing to step into the body/mind/soul-awareness that has been waiting to be as expansive as you can be.

What Can I Expect from this Alignment?
Limitations are dropping away, and if they are present, you are keenly aware as to what they are showing you. This goes for physical healing. A malady might disappear from this alignment, or it will heal faster because of the gift of awareness that it brings.
Your empathic abilities are honed to where you are not separated, but sharing consciousness with ALL things. You realize that you came into this body and on this Earth in this time because you are enjoying the adventure of forgetting how expansive you are as Source, and get to remember all over again!
If you recognize this work and this paradigm as your own, a Love Intrinsic Alignment is a fantastic way to get started. We are developing courses, workshops, and collaborations (including the Age of OM University) to house the practical applications of living your Jedi-Mastery Magic and other qualities of being omniscient–knowing yourself as ALL.
Imagine this alignment as a sped-up version of your first five years before you went off to school–learning to eat, walk, run, talk, socialize, say your ABCs, etc.; it's the way you oriented yourself for this life. This alignment readies you for the next step, the Age of Omniscience paradigm, and from there it feels natural to immerse yourself in "next level" learning.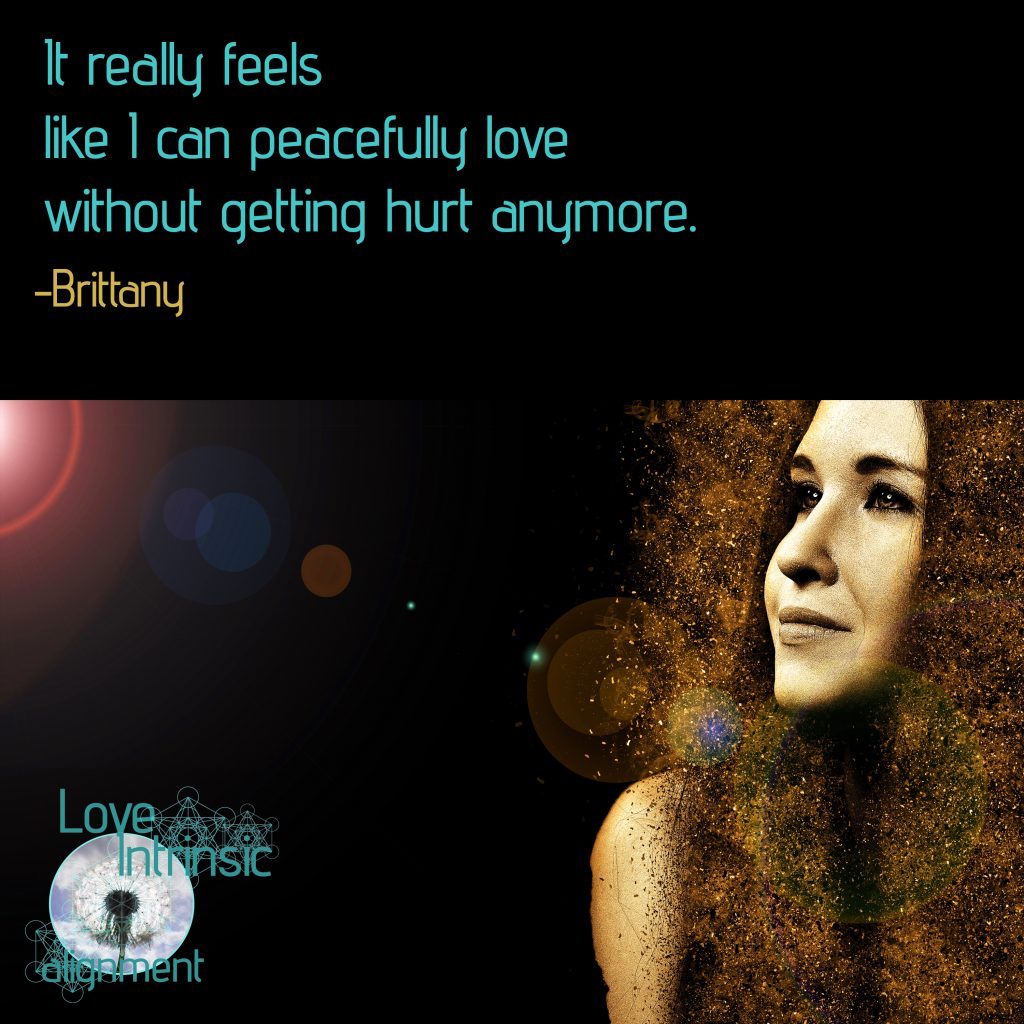 The Gift that Keeps on Giving
Energy is neither created nor destroyed. With the Love Intrinsic Alignment, you are "given" 3-12 "future" alignments that you can pass on to others. In the Age of Omniscience, we are recognizing that as soon as we nurture ourselves, we nurture each other. It also operates outside of time. This means that during the alignment, you are given energy that fuels you until it is ready to be passed on. Randi references the number of alignments you will pass on–it could be over a number of weeks or years. You will trust in the timing, because you will be living divine timing.
Imagine your body/12-strand DNA "holding" a number of light orbs until the time that you are with someone else who is ready and asking for an alignment/12-strand DNA activation. You then "release" the light orb into them, without any special training required. It can be as simple as holding their hands and imagining energy or light transferring from you to them. The energy knows what to do. The moment of connection and sharing is the most important part of the "transfer."
The "orb" that was inside of you, fueling you, continues to fuel you and the person who has been gifted the alignment. In fact, the energy becomes "stronger" from the conscious sharing of it. In many ways, this is a part of our reorientation from classical physics to quantum physics and entrainment…that energy transcends space and time, and you are being fueled and nurtured by energy no matter where it on on this planet or beyond!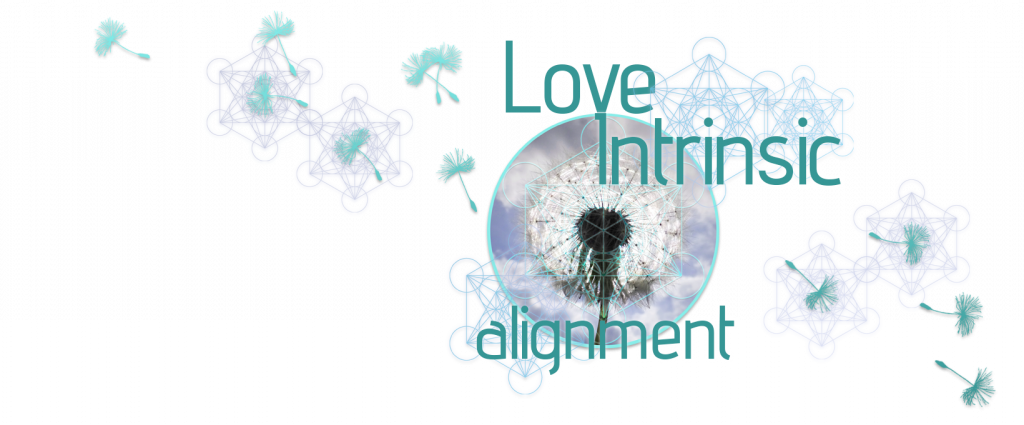 How is the Alignment Given?
The actual alignment is a light-working session that Randi does to "activate" this blueprint that you are. She is assisted by our guides and yours. It can be done in person or remotely.
There are two ways this alignment is done–individually or in company.
Individual Alignment
If in person, the session is done on a massage table. If it's done remotely, all that's required is that you have a quiet, comfortable and uninterrupted space. It takes 13-47 minutes. Everyone is different. Some require one session, some two, some three. And then it's done. You're now aligned to you as Source in a way that recognizes your expanded blueprint! The possibilities of how you experience human life truly become endless!
Group Alignment
There are options to do the alignment with another person (think the most EXPANSIVE thing you can do with another person…to be aligned together as the Love Intrinsic!), or with a group of 3-4. For these, it is ideal to have room to recline or lie down. These are done remotely or with Randi in attendance.
There are also options to do this with larger group of 5-12 people, and with a community of more than 12 people. These bigger sessions include a mini-workshop on those topics of shared interest for the group about our expansion into the Age of Omniscience. Randi is in attendance for these sessions.
These group alignments require one session.
Whoop! Let's do this TOGETHER!
Love Intrinsic Alignments are not healings in the sense that they target a symptom of energetic misalignment from Source. You have chosen to step out of this paradigm of amnesia. You are no longer ignoring imbalances, but are highly aware of energy in so many forms that the body is not required to tell you how far you've deviated from the health, wellness and connection of the center. The Love Intrinsic Alignments rather answer your soul's call to consciously merge once again with the mind of Source. -The Nibothym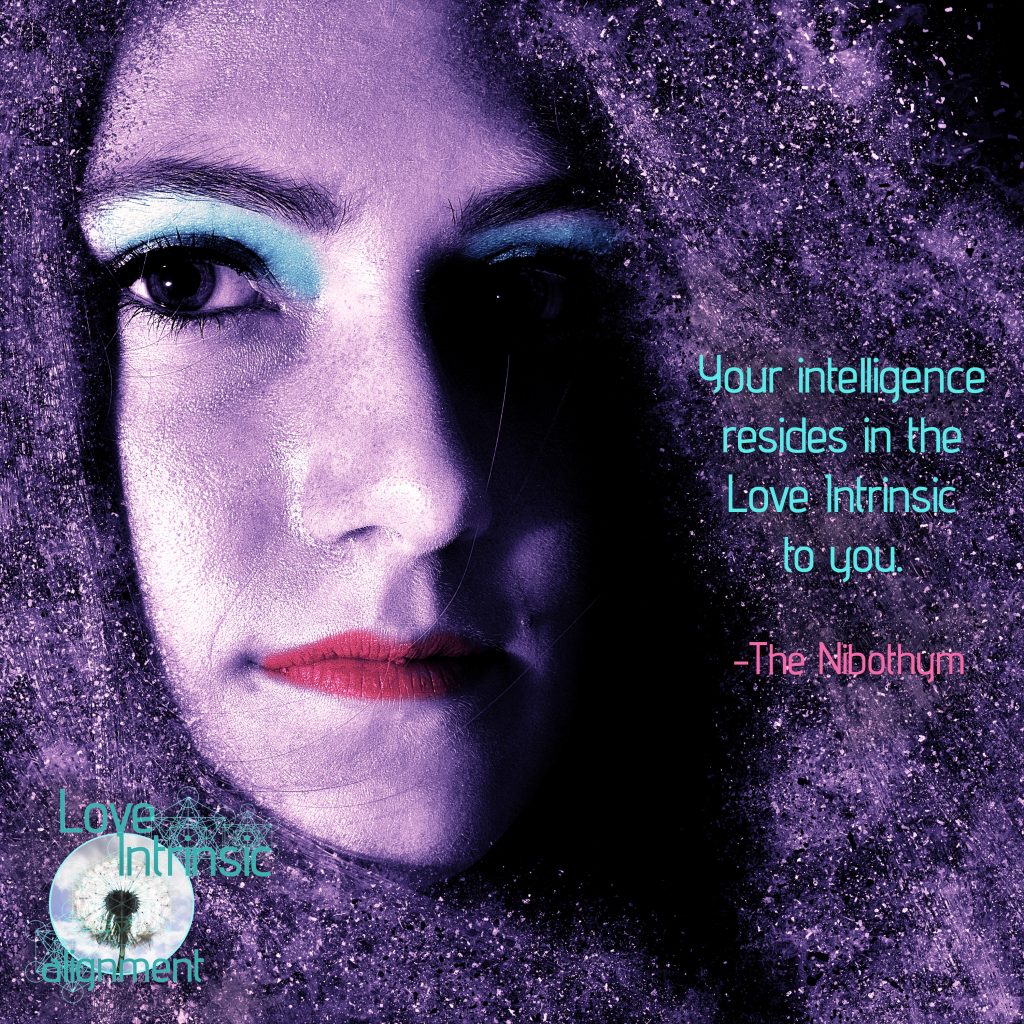 Facebook Group
Once aligned, what is to be expected? How do you know if what you're experiencing is connected? We would say that is undoubtedly connected.
We all have unique stories and paths in letting go of the previous paradigm and learning to live the new one. Don't let us tell you exactly how it will be. Rather, we can relate to each other as each other. One of the ways to connect is the Love Intrinsically Aligned Facebook group. After you experience the alignment, you'll have access to this private group, where we post to inspire discussion, awareness, and gratitude for this incredible life and blueprint!
Age of OM Forum
If you're interested in learning more about The Nibothym (facilitators of the Love Intrinsic Alignment) or The Joined (a voice for the 12-strand DNA), you can find their sessions in the Age of OM Forum. If you're not already a member, join here. It's free!
"Introducing Love Intrinsic Alignment" on June 25, 2017
"12-strand DNA" on August 8, 2017
Blog Posts
Randi also shares her story of how she came to channel the Love Intrinsic Alignment in these blog posts: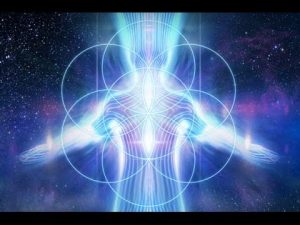 "Randi Janelle's Mutildimensional Dream: Love : Intrinsic : Aligned. Part 1"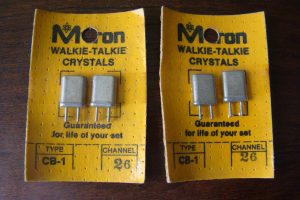 "Randi Janelle's Multidimensional Dream: Love : Intrinsic : Aligned. Part 2"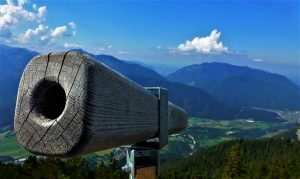 "Randi Janelle's Multidimensional Dream: Love : Intrinsic : Aligned. Part 3"
Thank you to photographer Efes Kitap for his amazing "sparkle women" images!