Discover Your Birth Card and Ruling Card Spreads
Using the cards is a life-long tool that is unique to you, your path and your spiritual development. It can be a guide in your relationships, business/finance decisions, creativity and health.
This System Gives You a Custom Roadmap to Use.
It reveals the core of who you are – your gifts and potential
What is currently going on in your life
How you can best walk your path, so that your life is rewarding, fulfilling and JOYous!
How you relate to and connect with others
It enables you to grow and add to the growth of All-That-Is.
You Have a Birth Card and a Ruling Card
Every day of the year is associated with a specific playing card. Some cards govern only one day, while others are associated with as many as twelve.
Each card has a specific meaning, determined by its numeric value (Numerology) and its associated planetary influences (Astrology).
To begin using this system and to reveal more of who you are, you need to know what your Birth card is and what cards are within your Birth Card spread. Your Astrological sign reveals what your Ruling card is and it has a spread as well. The charts below will help you to see what your cards are.
First, see what your birth card is using the chart below: Find the card that corresponds with your birthday.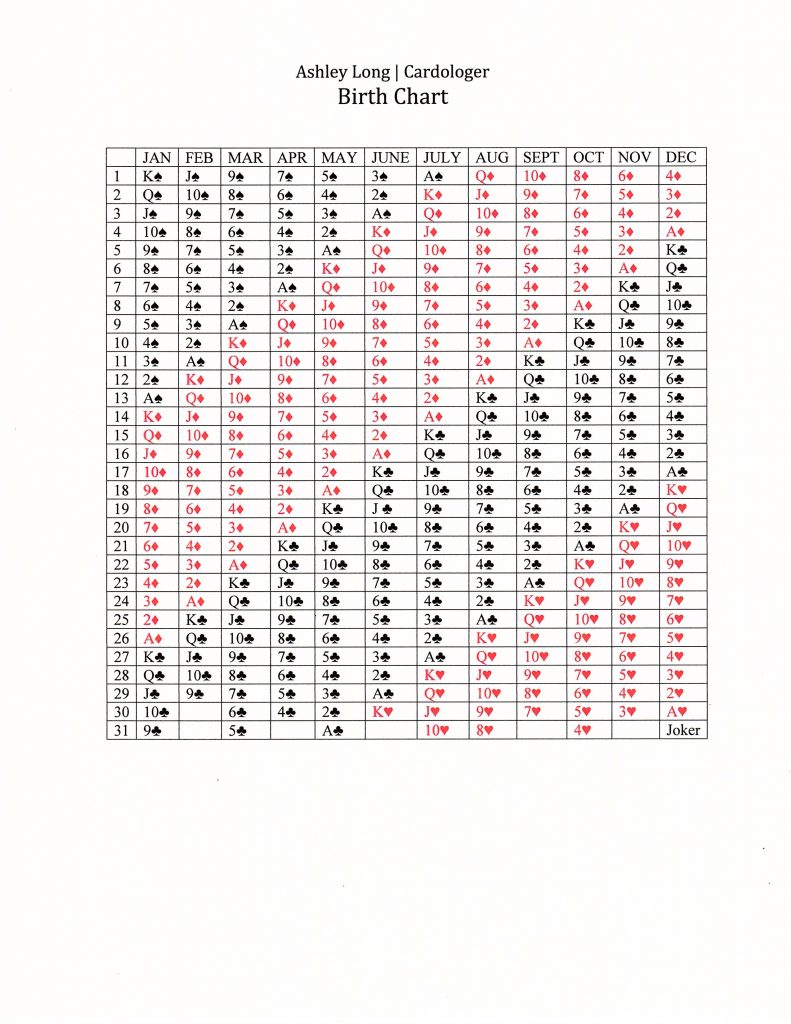 Along with your birth card (also called your Sun card) is a spread of cards, called your Birth Spread. Below is a chart of all the cards in your Birth Spread. Look for your birth card in the first column (Under Birth ) – In that row are all of your cards.
You have 11 cards besides your Birth card: Moon, Mercury, Venus, Mars, Jupiter, Saturn, Uranus, Neptune, Pluto, Result & Lesson. Each card speaks to what that planet represents in our lives.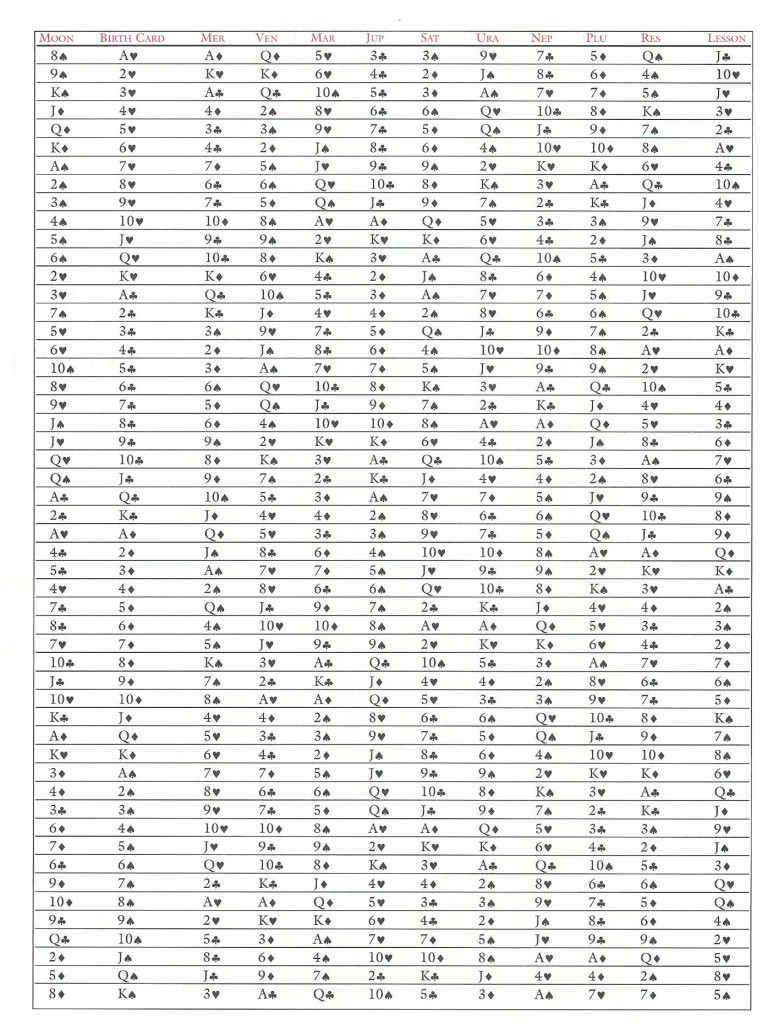 Next, you can find what your Ruling card is. You need to know what your astrological Sun sign is. Use the chart below to see what planet rules your astrological sign.
Ruling Planets of Sun Signs
| | |
| --- | --- |
| Sun Sign | Ruling Planet |
| Aries | Mars |
| Taurus | Venus |
| Gemini | Mercury |
| Cancer | Moon |
| Leo | Sun |
| Virgo | Mercury |
| Libra | Venus |
| Scorpio | Mars & Pluto |
| Sagittarius | Jupiter |
| Capricorn | Saturn |
| Aquarius | Uranus |
| Pisces | Neptune |
Now, go back to the chart above with the birth card spreads and find the planet that rules your Sun sign.
For example, I'm a 6♣ and my Sun sign is Cancer. Since the Moon rules Cancer, I look at what the Moon card is for the 6♣. My Moon card is the 8♥, so that is my Ruling card.
Next, look at the spread for your Ruling card.
Now that you know what your cards are, you can begin applying this to understanding yourself better – and to understanding the others in your life.
And…there is more!
The card spread you had at birth, that speaks to your gifts, challenges, opportunities and ways of being authentically you, changes each year on your birthday. This gives you a spread of cards that acts as an exciting roadmap for your year called a Yearly Forecast.
With it you can:
Plan out your year and see when the timing is best for your goals and projects
Use it for your business plans (it can give you a VERY detailed plan!)
See what types of experiences and people will be prominent in your year (and how to make the best of them being there!)
See how to make the most of your finances
Learn to use your challenges to uplevel your life!
Make the most of your creativity
Understand and live as a multidimensional being
And so much more…..
Are you a Member of my FREE Cardology Library? Continue to understand and use the cards in your life!
You now have the basic tools! Congrats!