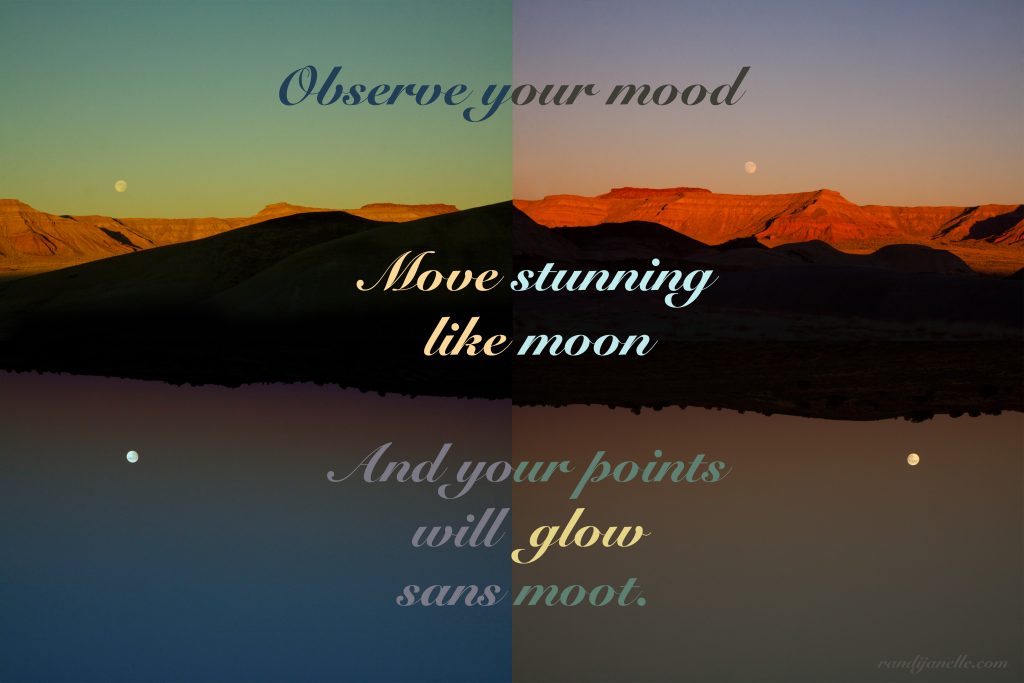 You know the basics of manifesting. You set your intention and you keep your thoughts focused on the end result, right? But, how do you know if you are staying in alignment with your intention? What if your intention changes – are you aware when it does? Do you know how to "course correct"?
Manifesting is a daily practice. Seldom does one get it and then go about it easily day in and day out like you do once you learn to drive or ride a bike.
Manifesting by the moon is not a new concept. It's a really cool tool we have at hand to use.
As I have been learning more through my work with the cards and through the information we have been given from our Guides, I've realized that the more aware we are of how we operate with energy moment by moment, (our personal vibration and the energy at play in our outer reality) the more ensconced we are in what needs to happen to manifest our desires.
Becoming aware or living in awareness isn't just a buzzword – it makes all the difference in how your life feels and goes!
Using tools (such as the moon cycles, our cards, astrology, etc.) is part of this awareness.
I want to share with you how we've taken the tool of the moon cycles and the cards -plus something else we discovered!-to be even more aware of what is at play energetically and how to use it to manifest.
A little backstory: I wanted to create a chart to use so I could be aware of the moon cycles and how each phase is a part of the "cycles" within manifesting.
I created this chart many months ago, but got busy with other things and forgot about it.
Meanwhile, Randi was being given information about "referencing."
Referencing basically means accessing your omniscience. With this, you have a connection to the version of you that has already manifested your intention! It doesn't require a time-machine or a flux-capacitor…just faith and trust in your own multidimensionality.
Referencing can be used as a tool while setting your intentions, and using your omniscience to get down a timeline for your intentions, then tune in (with certain moon cycles) to see if you are still "on course" or if you are in a different frequency.
In other words, let's say your intentions' frequency was path A. Your omniscience lets you know at the Full moon you could see the results in 2 months if you stayed in your current frequency and on path A.
But, a week later, you run across an article that has you re-thinking your intention. You might not even realize that it changes your frequency (you doubt yourself, or the validity of it, or it seems implausible). Now, you have a changed frequency and are no longer on path A, but you have no clue this even happened (which is often the case).
The 2 months you referenced go by and you've not manifested your intention. You feel like the process was pointless, or not meant for you, or you screwed up this whole manifesting thing again…and throw in the towel.
You are unaware of what things affected your frequency and threw you off course.
Randi has been using this for months and she was sharing it with me, but I was still a bit confused. Then, she said she was using it with the moon cycles, which reminded me of my moon chart, so I pulled it back out to look over again.
This time I added in my Lunar cards and suddenly the chart came to life. I showed it to Randi and she said, "This is what I do with referencing!"
So, I set my goals at the New moon and I added them to my moon cycle chart.
At this point, things still hadn't completely gelled with me yet.
But at the Full moon, we did a referencing session. This is the usual way of using this tool – you set your intentions at the new moon, then you check in on your frequency by referencing timelines (dates for manifestation) at the Full moon. (Typically, when manifesting with the moon, you set your intention at the New moon and it is fulfilled by the Full moon. This can happen with one or some intentions, but often it takes more than two weeks to manifest the "bigger"- or further in frequency – intentions.)
The other thing that happens during a Full moon session is that we do plateau referencing. This means that our omniscience gives us a certain number of plateaus and the timelines for them according to our alignment.
A plateau is a significant energy, event, or creation that changes the regularity of our days.
It is a balancing of energy from the deciding process of the intentions of your now, and a bit of "guidance" as to where you are focused at an expanded perspective.
For example, you may have 1-6 intentions for the New moon, and considering they are for a cycle of 28 days, they tend to be short-term. In plateau referencing, you may receive 8-12 dates on a variety of topics from work, family, relationships, and more. Often times, they range from the next year, to 10 years into the future. (How cool is that! Think about how cool long-range planning can be when you are given, by your omniscience, a timeline of what will happen according to your desires and current frequency!)
The process is repeated, so that from cycle to cycle you can track what you've manifested in the short-term moon cycle, to the long-term plateaus. But everything is determined by your choices and how strongly you hold a frequency.
The other added tool for this is to use your Lunar cards. Within the card system, we have our yearly forecast, broken into 52 day segments; we have cards every 13 days cards (as there are 4- 13 day segments in each 52 day period); we have Lunar cards which are cards for every 4 days and of course, daily cards.
In other words, we can get very specific with the energy at play in our daily life!
These cards (and how we wish to utilize them) give us clues as to the energy and alignment that is available for insights or to focus on elements of our intentions.
We'll go back to our example of being tempted to "throw in the towel." What if some of the intentions you set don't manifest? Or the date that was referenced goes by without your shiny creation coming into the physical?
We wonder what we did wrong; where did we go off course? Why didn't it happen?
It was during this Full moon session that I realized why I was off course and that I was not in alignment with my goal because I was going in two opposing directions vibrationally. I could then "choose" what I wanted and course correct – I was now aware of my mis-alignment.
I also saw what my lunar cards were at the time of the new moon and the full moon, and they shed light on what I needed to do and what energetics were there for me.
Manifesting with the moon cycles went from a vague thing, to something that allowed me to be clear, concise and to use the power I have as an omniscient being!
The material includes worksheets to help you get very clear on your intentions, how to apply your personal lunar cards to the cycles, our personal examples of card energy to guide us, as well as 2 Full moon referencing sessions with us so that you can complete a cycle and start a new one.
You get guides, templates, worksheets, a forum to ask questions and share as well as  FREE tools that we use beyond our non-physical omniscience…ones that exist on the internet! 😉
Click here for more information, as this begins August 31 for the September moon cycle. This also coincides with a SOLAR ECLIPSE for an opportunity to reference JUNCTURES (when we are making MAJOR changes in our life.)

For more information and to sign up – Go Here!
Join our FREE community if you haven't already and explore more of the entirety of who we are!
If you would like to hear about referencing from our guides, OM, please find the session in the forum here. (Please join our community if you haven't already to access the Stellar Family Forum.) Thanks!