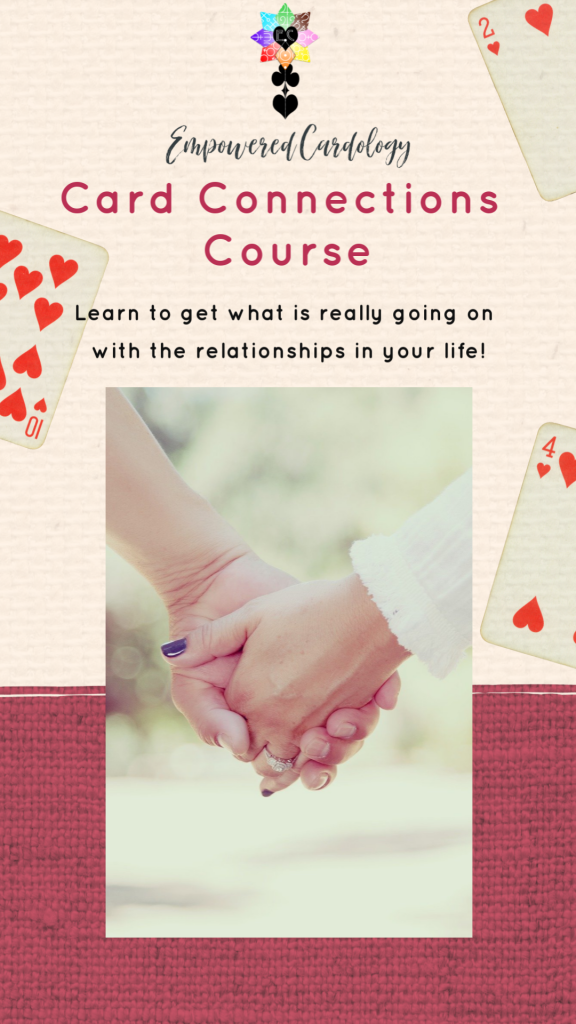 What if you had...
A way to check in on the energy of a relationship (or possible relationships) as soon as you meet the person.
No more confusion about who they are and how things might go - no more slogging through wondering if they are who they say they are! You will know how to use Cardology and the card connections to understand IMMEDIATELY what is really up!
A system for truly understanding the relationship dynamics within your family
No more false perceptions about why certain family members act as they do.
No more misinformation and assumptions about yourself, about them and about healthy behaviors.
Learn to change old reactionary habits because you KNOW what is really going on  - ways to handle it, uplevel and HEAL.
Introducing The Cards Connection Course
An online course designed to give you the information and step-by-step tools so you can use Cardology to clarify and transform your relationships.
In this Course, you'll learn:
♥

What energetic connection and/or soul contract you have with a friend, family member, or romantic partner and what type of relationship dynamic it is creating.
♣ Understand YOUR part in the relationship, what you can shift and how to change your perspective about them.
♦

Have the confidence to relate to them. The Course covers the different types of old-way habits of relating that are NOT positive, yet this is how most people handle relationships. Your shift creates a bridge, a possible way to change and healing for the relationship.
♠ YES, a positive relationship is possible and absolutely within your reach – and they don't even have to know what YOU know!
Are you a parent? A sibling? A daughter or son? Want to better understand your family dynamics and why family members relate as they do?
Learn to see the differences in how one family member relates to the others and how you can shift any negative feelings or reactions to growth and harmony!
Are you in love? Married? Dating and wishing you could pull back that confusing veil and see what is really going on? 
Learn to really see and understand how to work with the energetic connections going on in your intimate relationships.
Do you wish you could better understand your co-workers? Your boss? Your employees? What if you need to sign a contract or become partners in business and wonder if down the road things will change in your relationship?
Learn to know upfront what the dynamics will be and see if it's a soul contract and how to make it a positive one!
Discover and utilize the life-changing skill of Card Connections through Cardology in just a few months, at your own pace, with The Card Connections Course.
HERE'S A SNEAK PEAK OF WHAT'S INSIDE THE CARDS CONNECTION COURSE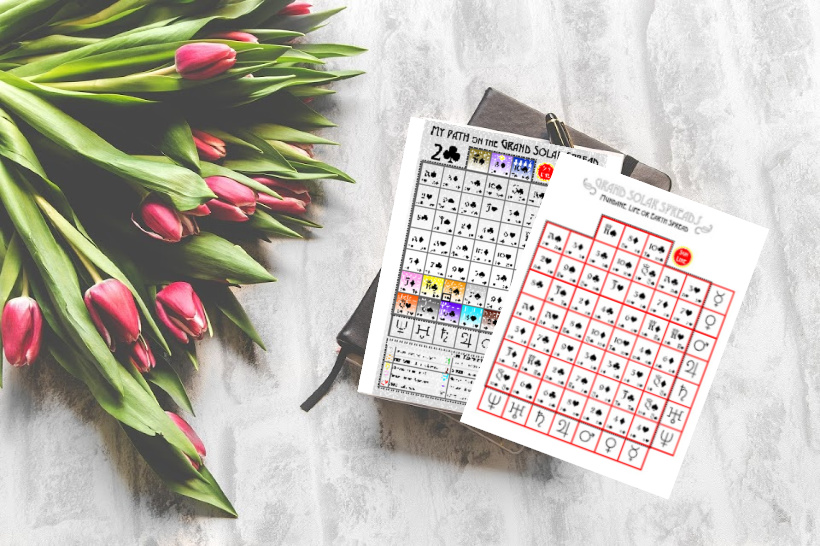 Module 1: Learn how to spot all the various connections you have with those in your life.
You'll receive a beautiful chart of YOUR Life Path spread on the Earth spread – it will show you all 15 cards in your spread. This makes it much easier to then know when someone in your life is IN your spread.
You'll also receive both the Earth & Spiritual spread charts to print out- as this is what you'll be constantly referring to in the Course (and for life!)
In Module 1, you will learn to identify via the charts ALL the ways you have connections with those in your life.

Module 2: You feel one way - I feel another!
In Module 2, you'll learn to spot the connections that can be difficult for one person, easy for another. Or, where one person feels a certain type of energy, which is not what the other person feels. This can create confusion and conflicts that lead to drama – unnecessary drama!
When you understand the different energies the two parties are feeling, you can shift YOUR perspective and avoid the conflict or difficulties.

Module 3: Spiritual Spread Connections
When we've had a connection with another in some past life (or they are part of one of our multidimensional realities) and that energy is still there, between you, it can also be confusing to navigate. You feel something, but what? Why?
In Module 3, you'll get to explore more of what the Spiritual spread reveals to you about past life connections. Are there unresolved issues still? Learn to understand what they mean to gain clarity on what is going on in the present.
With the added exploration from the Past Life session you'll get, you can shift, let go of or resolve any issues still there.

Module 4: Composite connections - the energy you create with another person.
You and another person together creates synergy – a combined effect. Do you notice how you can be and feel different with different people? Or, as a parent, respond to your children differently (no matter how much you love them equally?)
Understanding the energy you create when with another person is valuable – especially as a parent, with your romantic partners and with co-workers.

Module 5: Transforming (or upleveling your life because of) the challenging or difficult connections.
We all tend to want to end a relationship or 'fix' someone who is difficult or challenging to us. Not all connections are easy, yet they are important for your own transformation and expansion.
In Module 5, you'll learn how to see difficult relationships differently. And if there is what is supposed to be an easy connection that isn't feeling so easy, what to shift.
You'll learn that there is the low and high side of each card connection and what to do if you or the other person is living the low side.

Module 6: Dealing with Energy Vampires - when you are what they seek.
In Module 6, you'll learn about the 9 Unhealthy Habits most people use to relate to others and where there are energy vampires in your life.
You'll learn to shift your perspective instead of feeling the need to change or fix others.
You'll learn new ways of dealing with dysfunctional relationships.
You'll also learn how to check on connections for dating, employment and deals/contracts.

Module 7: Parenting - understanding our children through our connections to them.
When you as a parent can see the person and path your child chose by understanding their Life Path, you can be a stronger and healthier supporter for their journey.
You'll be able to understand the different needs of each child (or any child in your life) and how you can encourage their uniqueness and authenticity.
The biggest pitfall parents make is to try and get their children to follow the same path they did- or to avoid all the mistakes they made. When you understand the differences and needs of each child, you support THEIR journey and stop projecting your own onto them.
At any point in this Course, you can schedule your FREE reading with me so you can see how and why a specific person is influencing your life right now. You'll see how people come into your life for specific reasons (soul contracts) and how they show up in your current forecast.
The Card Connections Course is a complete, start-to-finish training in how to recognize and work with the energetic connections you have with your relationships!
You'll get access to 7 training modules. Each module contains video lessons and workbook with fun, hands-on, practical assignments and activities that will serve to deepen and personalize your knowledge of the card connections in Cardology.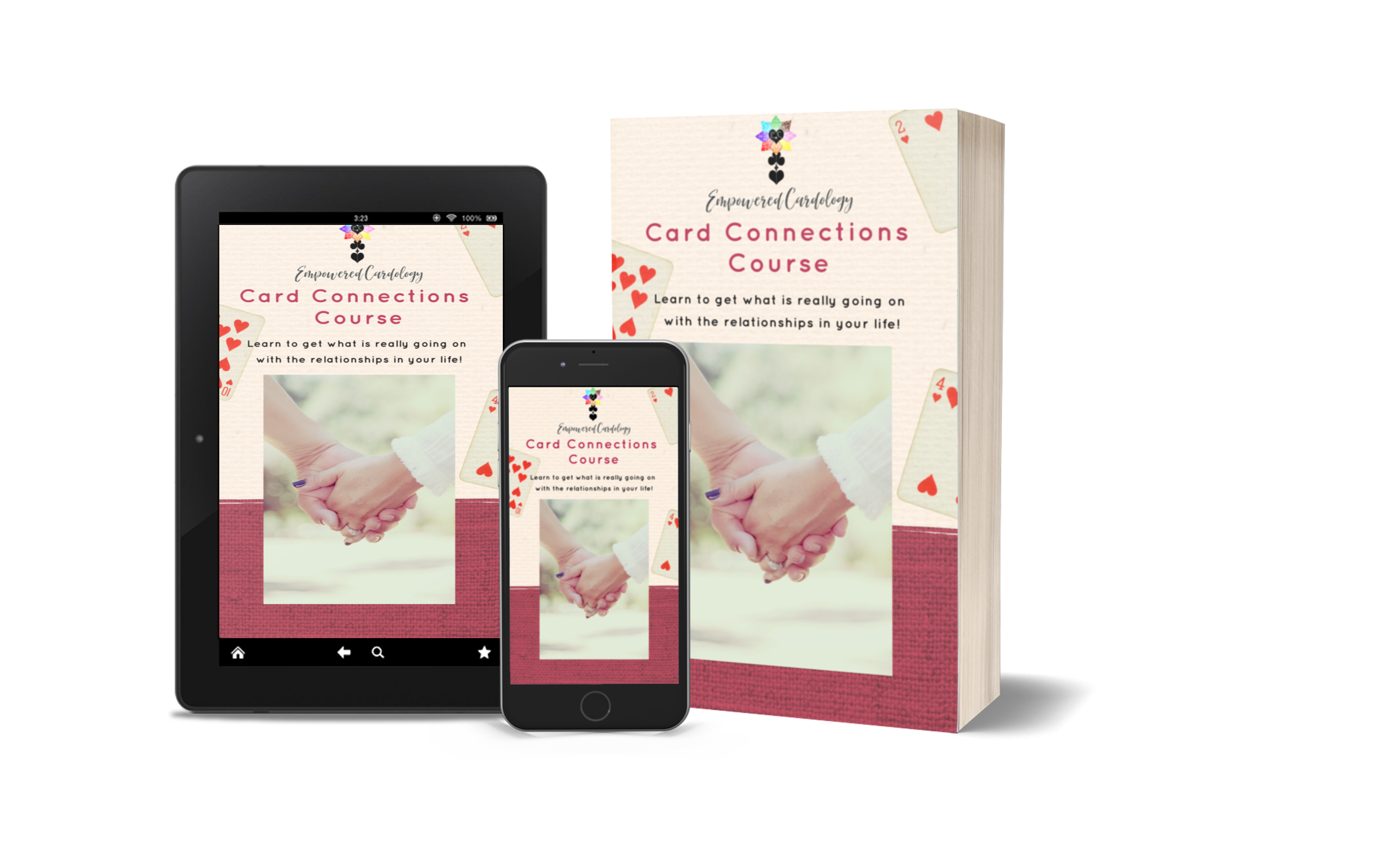 PLUS, for every Module, you'll get worksheets, practical exercises for shifting negative relationship habits and a Facebook group to ask questions and be able to USE what you are learning to help your relationships!
You'll Also Receive Some Pretty Awesome Bonuses! Here Are Just A Few:
What's included in The Card Connections Course?
Video lessons to walk you through how to find the types of connections in the Earth and Spiritual Spreads.

Worksheets, charts and guides to break down the various types of connections you have with those in your life.

A private Mastermind Facebook group with weekly sessions to discuss and ask questions.

Bonuses - A Past Life session and a Reading!

Reference charts: Strengths and Weaknesses of EACH card & The 9 Habits of Relating most people use and how to transform them.
Exercises, visualizations and meditations to transform and uplevel your relationships.

And more!
♥

Clarify the energetic connections you have with your family, friends and lovers.
♥ Transform difficult or negative relationships into ones with acceptance, growth and harmony.
♥ Learn to get what is really going on with the people in your lives!